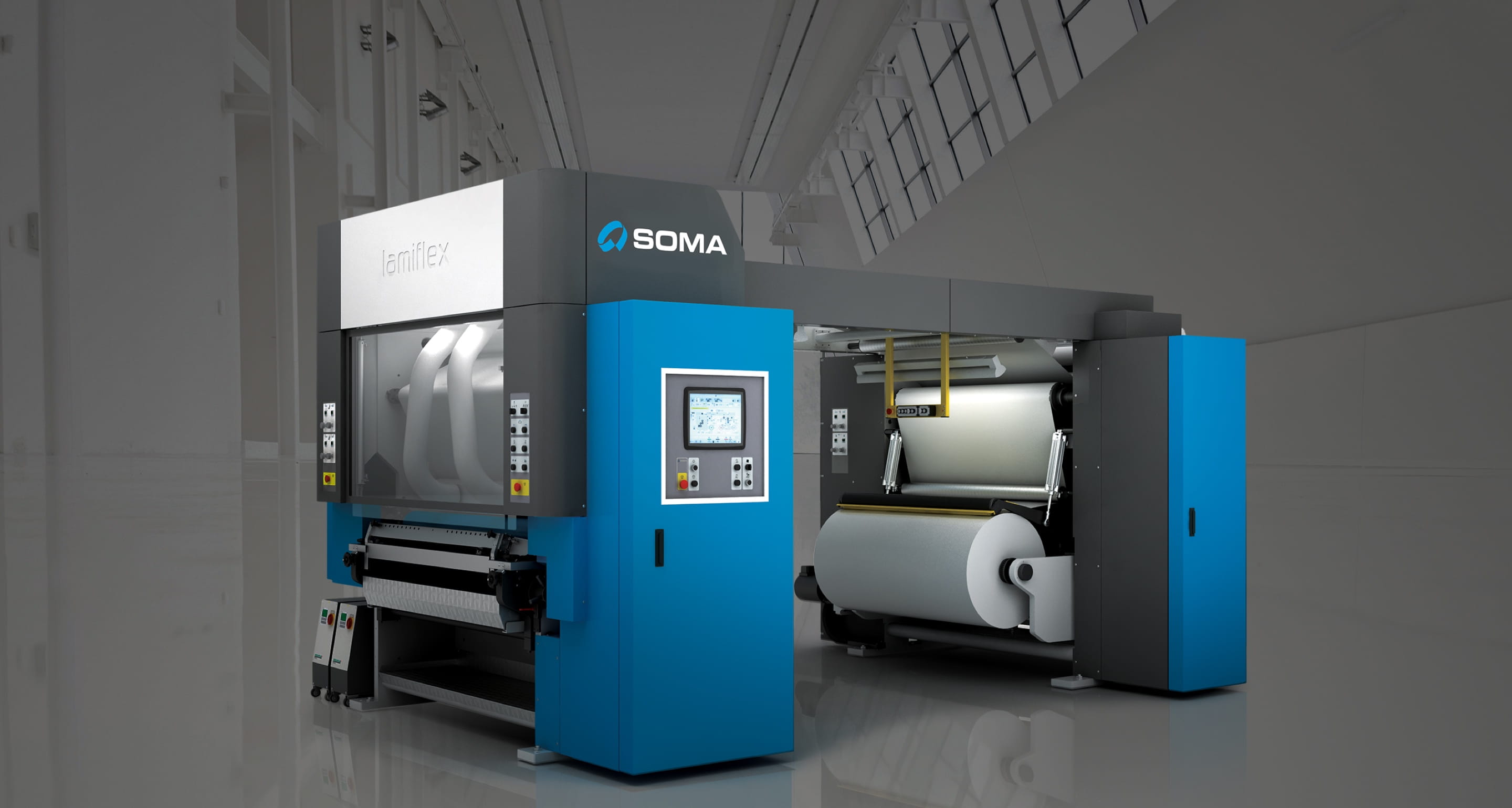 Available for trials
Lamiflex
An ideal entry level machine for those entering a new lamination business and seeking for new opportunities, but also established converters.
850/1320 mm

33.5/52"

Web width

350 m/min

1148 fpm

Speed

850 mm / 800 kg

33.5"/1763.7 lbs

Roll diameter / weight

solventless

solventless

Lamination type
Processed materials: BOPP, PET, PE, LDPE, OPA, CAST PP, CAST PA, AL foil, paper, laminate and more
1st of 3 customer benefits
Improve your efficiency
Efficiency and productivity is the key for success. Lamiflex is equipped with following features increasing efficiency for the production.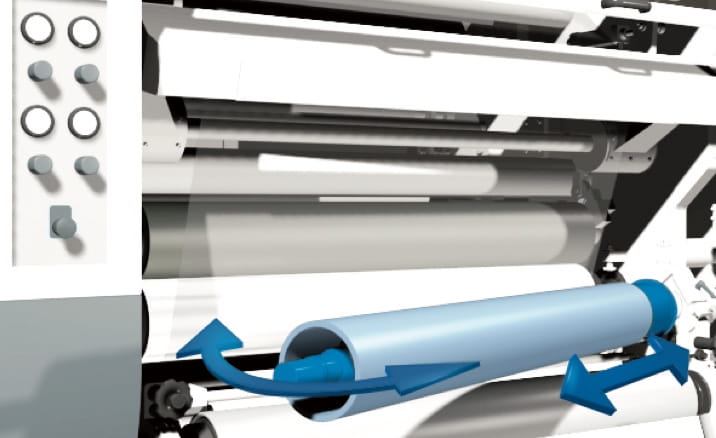 Sleeved transfer roller
The cantilevered sleeved transfer roller enables very quick and easy on-board sleeve exchange.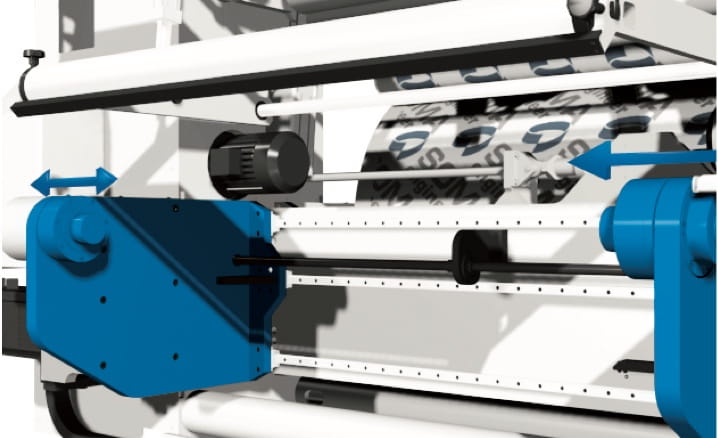 Shaft-less unwind and rewind units
Shaft-less unwind and rewind units enable quick, easy and comfortable roll clamping horizontally.
2nd of 3 customer benefits
Be sure you laminate with the best quality
The following features ensure perfect lamination quality even when laminating very difficult substrates.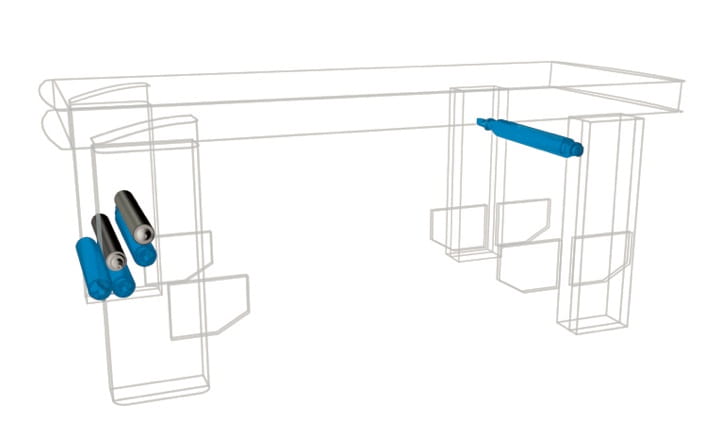 Temperature control
Three loops with individual thermo-controlled units for dosing rollers, application roller and the the lamination roller ensure the higher speed running and increase the options for processing a wide range of substrates.
Tension control
Lamiflex is designed to process a wide range of substrates with tension range 30 – 250 N at unwind and 30 - 320 N at rewind offers laminating all common materials.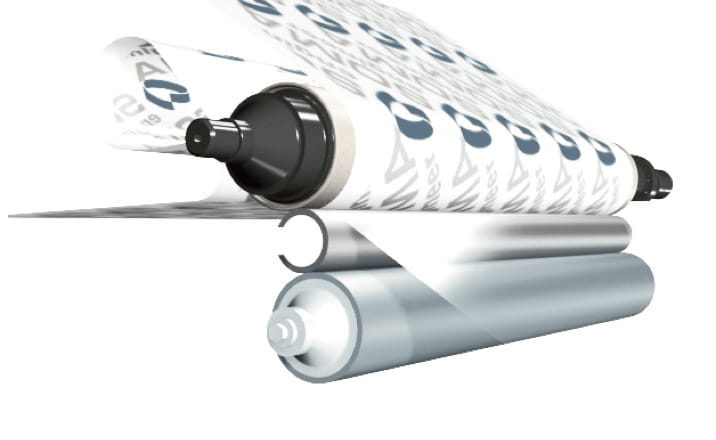 Three-roller lamination
High quality lamination is ensured by a three roll system that ensures high rigidity, a small rubber contact area and a large angle of incoming material for perfect lamination and air bubble elimination in the final laminate.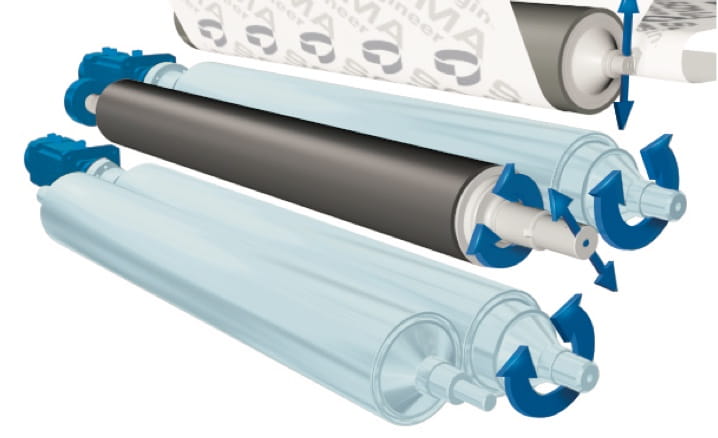 Glue application
Precise glue application rollers, high rigid mechanical stop of the dosing gap and fixed roller housing enable precise and constant glue dosing.
Automatic web guiding
Automatically controlled horizontal movement of unwind units and materials ensures high rewind quality of poor-quality input rolls.
Angle adjustable rollers
Adjustable guide rollers at unwind and rewind balance the poor-quality (conical) input rolls can be successfully processed.
Cooling cylinder
An optional water cooled cylinder ensures laminate cooling before rewinding and contributes in eliminating roll telescoping.
3rd of 3 customer benefits
Operate with comfort and safety
Following features ensure that Lamiflex operation is simple, intuitive and safe.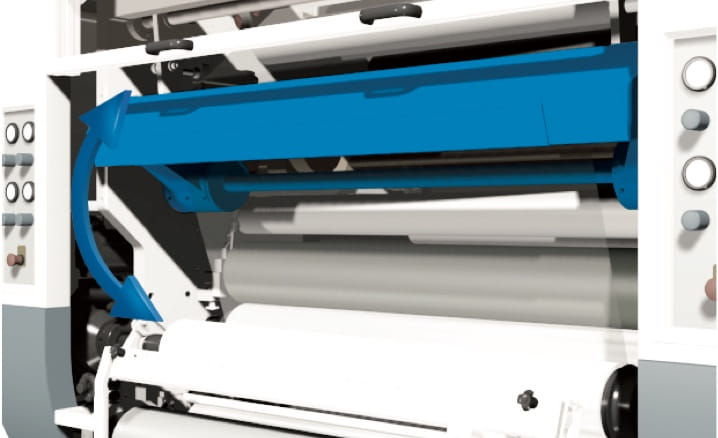 Fume exhausting
A high efficiency exhaust system over the whole machine width reliably removes all fumes.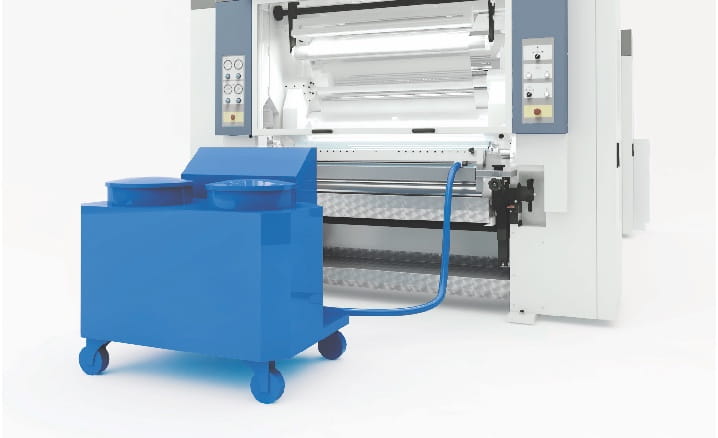 Mixing and dosing unit
Simple dosing solution for one-component and two-component glue with full automated refilling directly from barrels ensures smooth glue dosing with minimal manual handling.
Recipe system
All machines are equipped with a recipe system for job file storage to be easily recalled from the memory.
Roller wash-up
Automatic roller pre wash-up of transfer sleeved and application rollers significantly reduces costs and saves the operator time at the end of each job.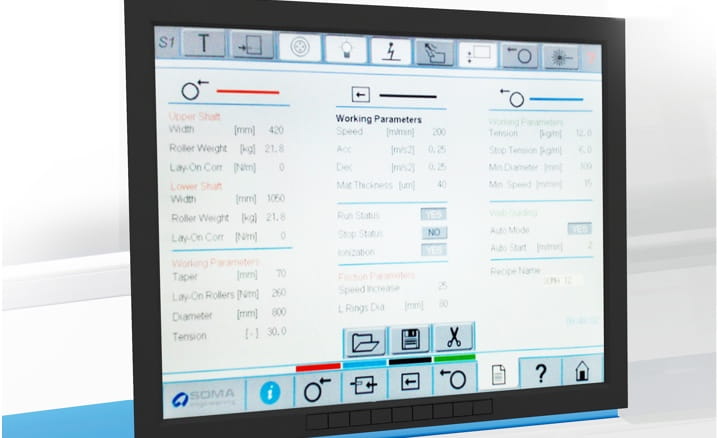 Intuitive control
A touch screen control panel with user friendly interface.
CE standards
Machines comply with and meet stringent European safety standards and codes.
Eager to get more information?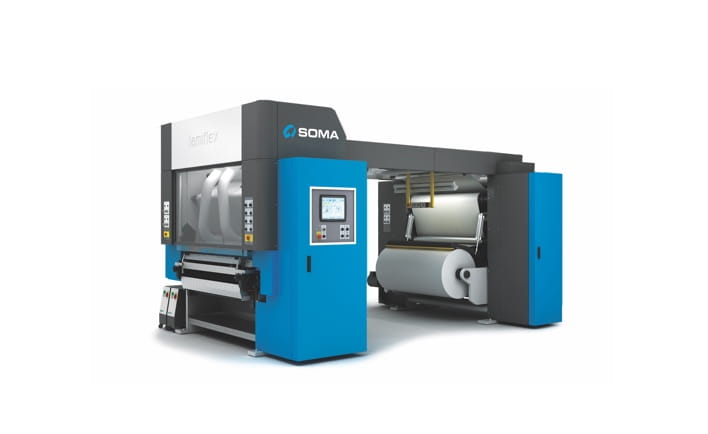 Lamiflex
An ideal entry level machine for those entering a new lamination business and seeking for new opportunities, but also established converters.
Web width

850/1320 mm

33.5/52"

Speed

350 m/min

1148 fpm

Roll diameter / weight

850 mm / 800 kg

33.5"/1763.7 lbs

Lamination type

solventless

solventless

Min. web width

300 mm

11.8"

Processed materials

BOPP, PET, PE, LDPE, OPA, CAST PP, CAST PA, AL foil, paper, laminate and more

BOPP, PET, PE, LDPE, OPA, CAST PP, CAST PA, AL foil, paper, laminate and more