Available for trials
Optima2 8C
Optima2 8C is mainstream wide web printing press designed for high speed printing, fully automated and equipped with short run features.
8

8

printing decks

880/1050/1270/1450 mm

34.6/41.3/50.0/57.1"

print width

300/330/360/400-850 (1100) mm

11.8/13.0/14.2/15.7-31.5 (43.3)"

repeat

400/500/600 m/min

1312/1640/1968 fpm

speed
Processed materials: LD PE, HD PE/PP, CPP, BOPP, PET, OPA, paper, laminate and more
Optima2 8C's unique selling points
IRIS

Sets register and impression producing almost zero meters setup waste.

Advanced Bounce Control

Reaches top speeds with absolute print stability.

Helps to ensure quick and easy changeovers between jobs.

Ink Cartridge

Reduces ink costs by minimizing ink volume and residual waste.

Service S-Chat

A very convenient chat-type of communication.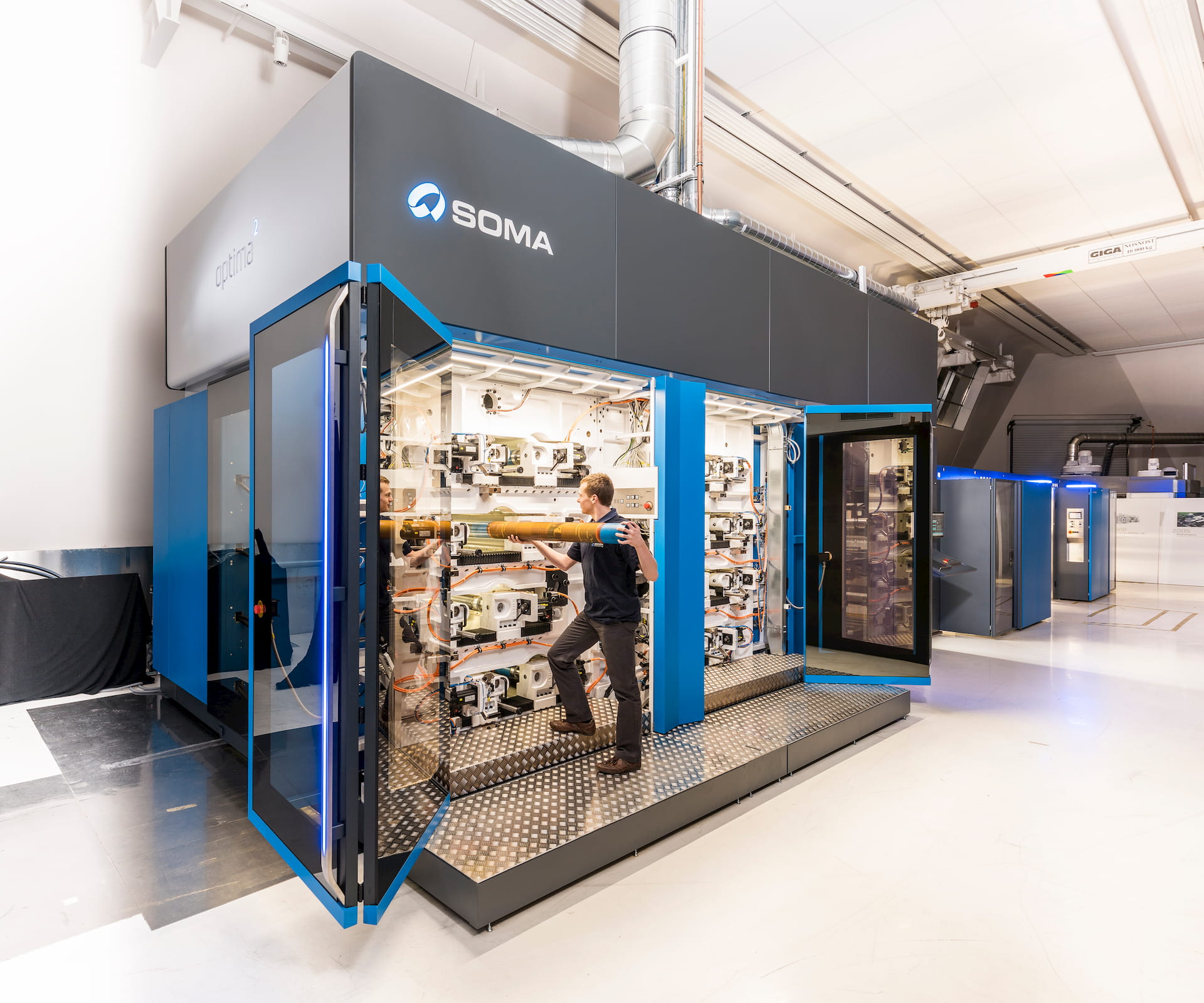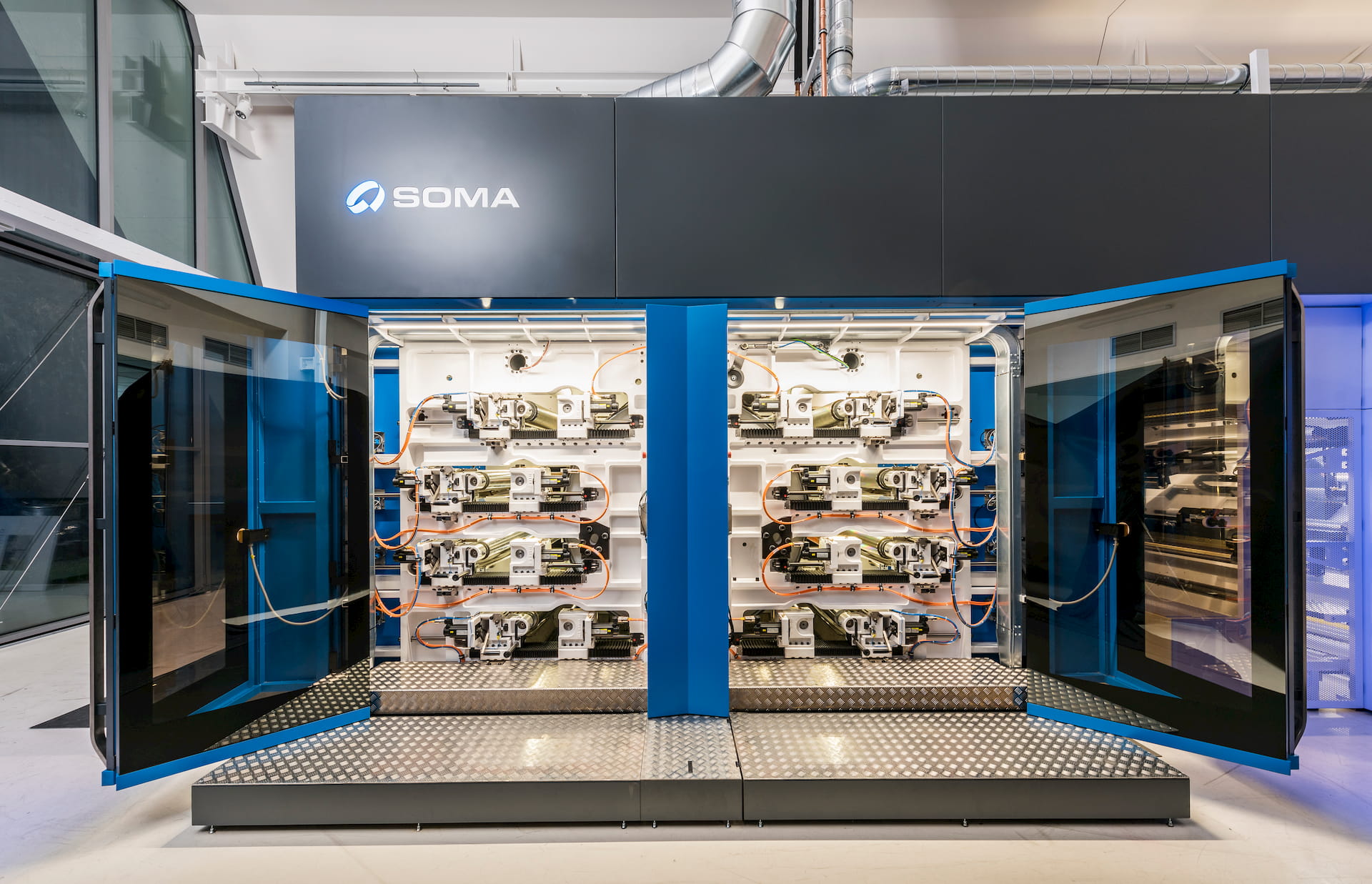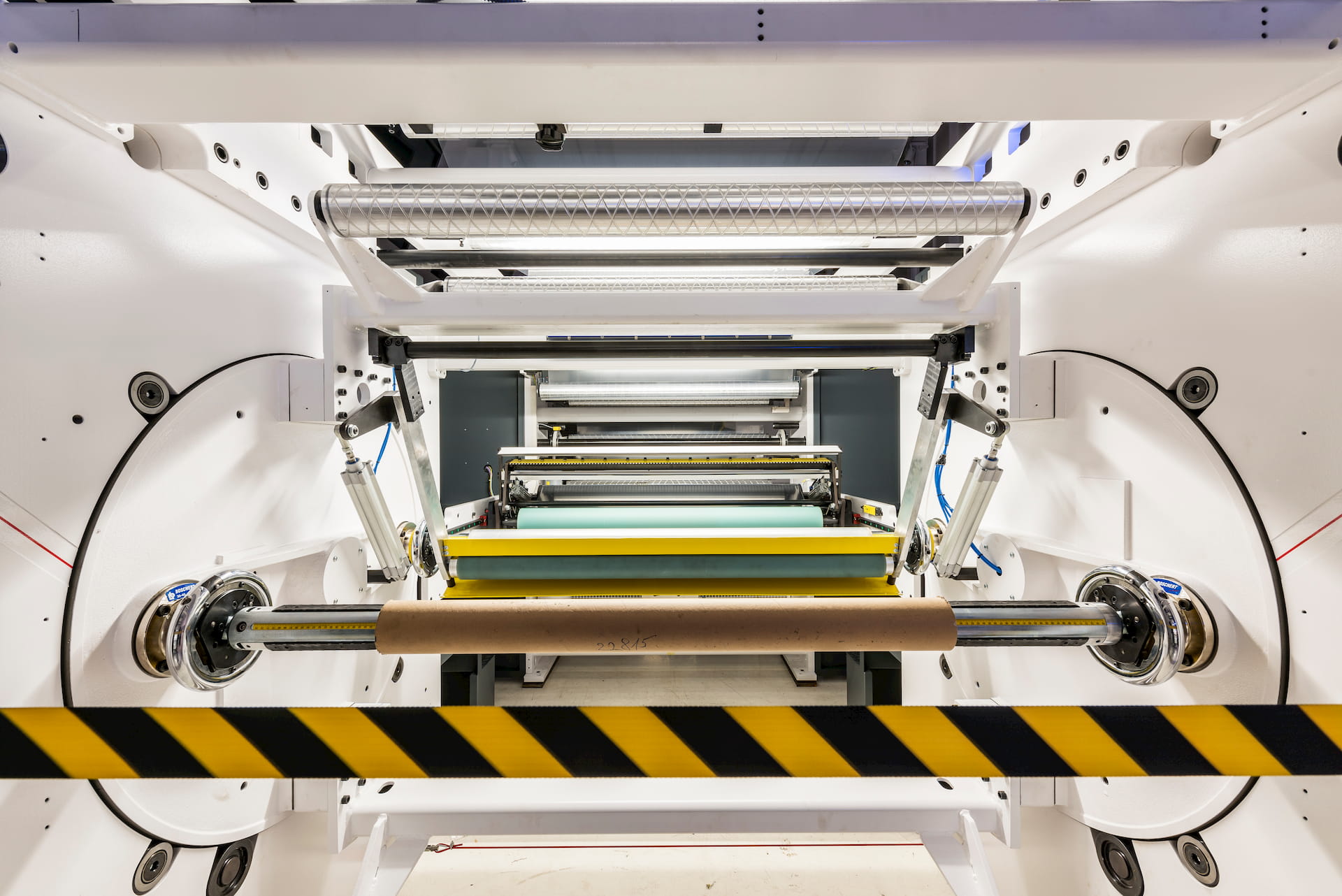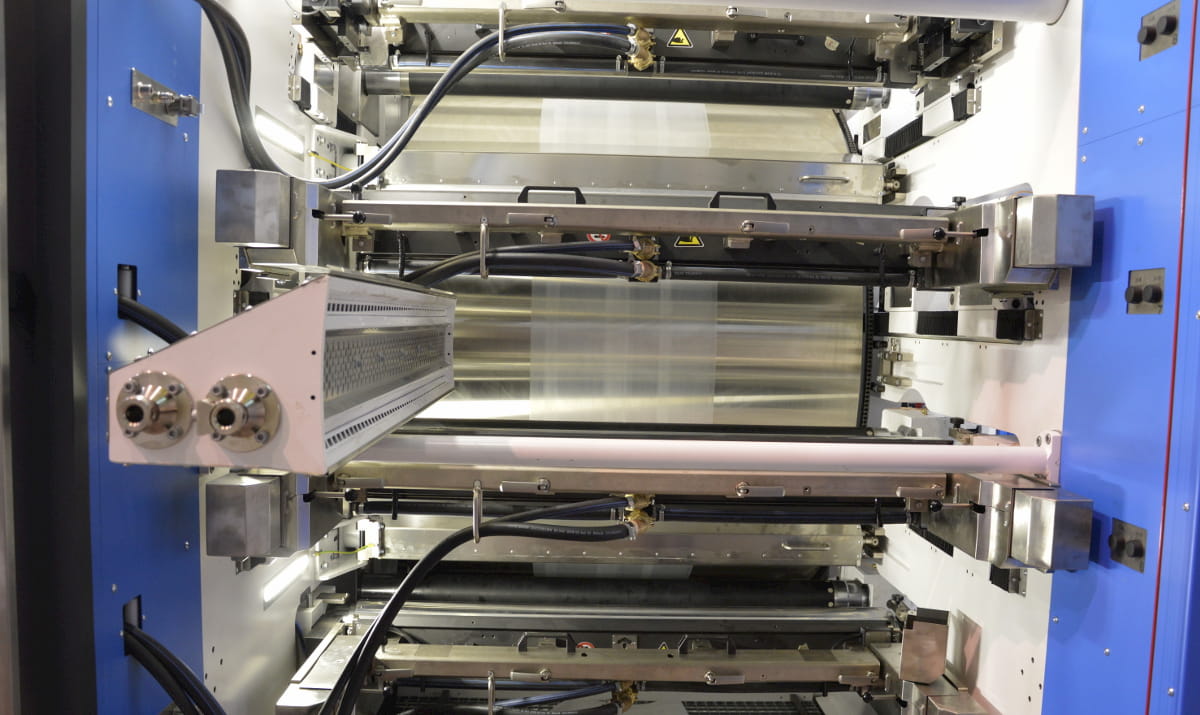 Listen to our customers sharing experience about Optima2 8C
1st of 4 customer benefits
Improve your change-over time and waste
The number one challenge for printers is short-runs. Therefore we designed Optima for easy changeovers. Optima is equipped with Smart Platforms, web is easily accessible at any point and mainly Optima is equipped with several automated features that minimize time and waste during change-overs.
Register & Impression setting
IRIS - the fully automated system in Optima flexographic printing presses sets all active printing decks into impression and register in couple of minutes with almost zero ink and material waste.
Optima may be delivered with SOMA's automatic plate mounter S‑Mount. The automatic plate mounting process is much faster and more accurate than manual mounting. With it, press downtime due to incorrect plate mounting is minimized. S‑Mount comes with the unique IRIS feature: plate topography and registration measurements, which provides the foundation for automatic registration and impression settings on press.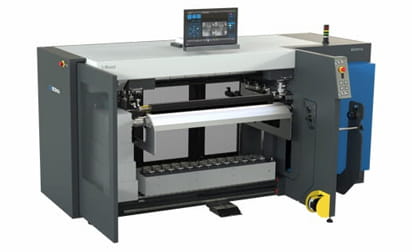 The Cartridge system
The Cartridge system offers printers a means of reducing ink costs on printing jobs where expensive spot colours, special effect and metallic formulations are required. These high pigment inks are expensive consumables and reducing ink volumes and residual waste permits printers to maintain profi t margins while meeting end user price demands.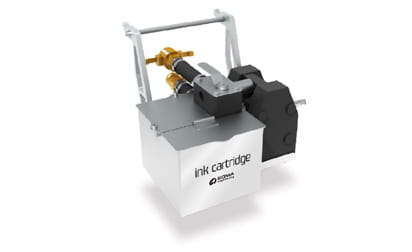 Ink setting
Ink Storm efficient wash up system
0,6l (0.16 gal) residual ink in the system
Time & solvent & air consumption is optimized and monitored
Substrate setting
Easy access to web
Minimum height of press
Motorized web threading system
Colour setting
Colour matching system helps to reach brand-owner specification
Intelligent recipes

available in 2022
One job recipe for all machines connected
Change-over wizard

available in 2022
Automation of changeover process
Change-over tutorial
2ND of 4 customer benefits
Be sure you print with the best quality
Thinking about print quality, we had to place into right balance the following physical properties – mass (the more the better), rigidity (design which stands strong) and dumping properties (the right materials). The result of this effort is named Advanced Bounce Control and is the key factor to the highest print quality achieved by our printing presses.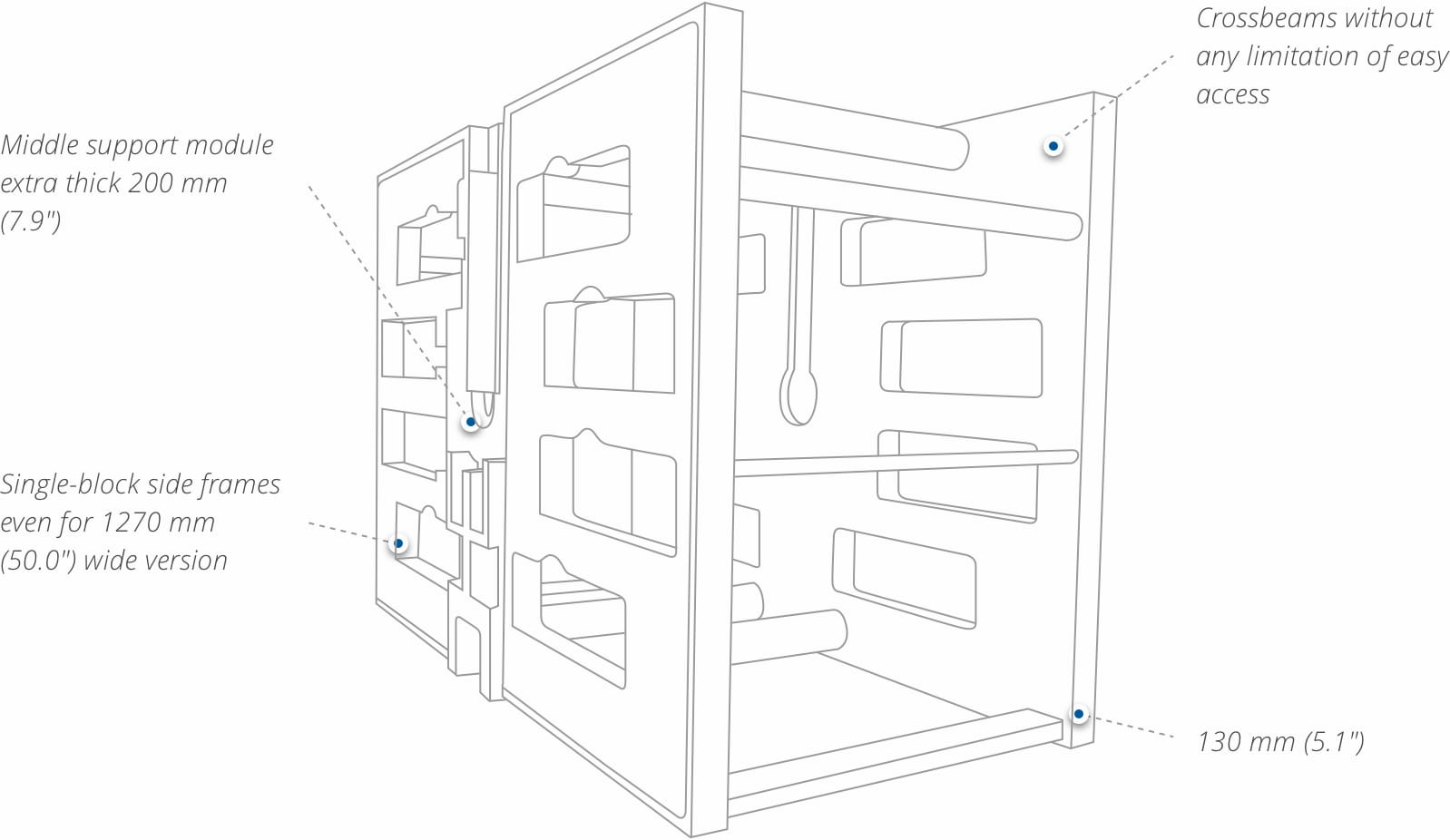 Advanced Bounce Control
This system combines elements within the printing process with brand new engineering and enhanced technical features. These include choice of single block cast iron print unit frames, a sophisticated printing deck design and optional composite mandrels.
Job Tuning
Is the second-generation Advanced Bounce Control feature, contributing to exceptional print quality. It is a specially designed software algorithm, performed during job set up that minimizes the bouncing effect for each particular design via special drive tuning procedure.
Single block frame
Printing unit frames are key press parts developed and designed with great emphases on optimal dynamics, rigidity and properties. Printing unit frame consists of two cast-iron single-block side frames with inserted drum mounting where the complete side of the print module is cast, annealed, machined, painted and assembled as a whole. This concept is unique in wide-web flexographic printing presses, in combination with in-house production and quality control guarantees the maximum accuracy needed for high quality printing.
3rd of 4 customer benefits
Gain flexibility via future upgrades
We believe that printed package is not enough in the current world of packaging. Packaging needs more than just a good look. Therefore we developed a flexo press that is ready for implementation of in-line technologies that would bring additional added value to flexible packaging. Optima's modular design provides a maximum level of press customization to specific needs any time during press life time, not only during first order phase. It allows a flexible feedback to the current market demands and to implement in-line lamination, slitting, perforation, or upstream/downstream units with minimal additional costs. These units bring an additional added value to the flexible packaging, for example over printing varnish or a special coating.
Different winder options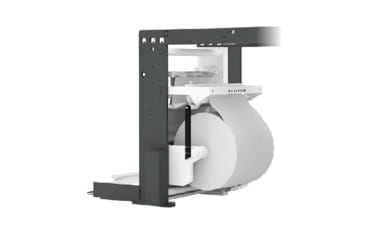 single shafteless unit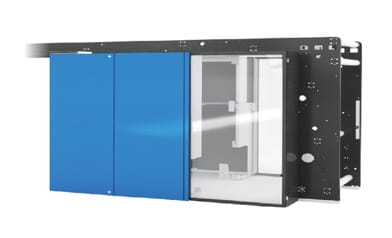 non-stop flying splice shaftless unit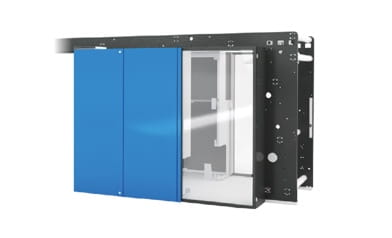 non-stop flying splice shafted unit
4th of 4 customer benefits
Operator's comfort, safety and minimum errors
When designing Optima we put great emphasis on saving running costs and operator friendliness. Optima cotains many intelligent features, which at the end boost overal efficiency. Intelligent Automation contributes to high quality printing, improved communications, and primarily helps to ensure a quick and easy change-over between jobs, while minimizing operator error.
Intelligent Recipe

available in 2022
There is only one recipe for each job available for all SOMA equipment located on the S-Cloud. Using one recipe for all equipment avoids human error and provides the foundation for the efficient job changeover on the S-Mount plate mounter as well as Optima flexo.
Intelligent Changeover

available in 2022
The Intelligent Changeover feature guides the press operator during the change-over process. It will minimize the number of tasks to be taken and will automate as many steps as possible - therefore minimizing operator error. With the IRIS feature, registration and impression on the press will be set, completely automatically.
Doctor blade chamber
POSITEC non-stick nano technology surface
On-board blade & sealing exchange
Optimal ink pressure
Intuitive touch screens
Operation manual and video guide in touch screen pannels
Intuitive enviroment
Control pannels on movable wall
Intelligent Supervision
Online energy monitoring
Online efficiency monitoring
Cantilevered dryer head
iDRY intuitive drying setting for optimal energy saving
Easy access to CI drum for cleaning
Eager to get more information?
wide
web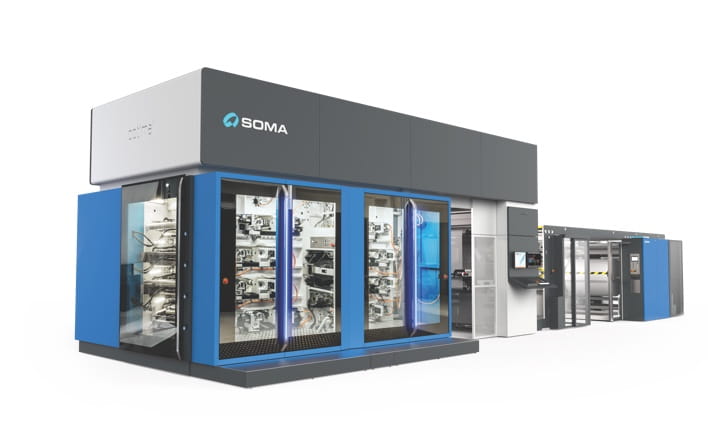 Optima2 8C
Main stream printing press, high speed, full automation
Is designed for WIDE WEB segment such as food packaging, frozen products, hygiene product packaging & diapers, paper cups and wrapping, paper and plastic bags…
printing decks

8

8

print width

880/1050/1270/1450 mm

34.6/41.3/50.0/57.1"

speed

400/500/600 m/min

1312/1640/1968 fpm

repeat length

300/330/360/400-850 (1100) mm

11.8/13.0/14.2/15.7-31.5 (43.3)"

roll diameter

800/1000/1300/1500 mm

31.5/39.4/51.2/59.1"

inks
Solvent/Water-based, UV/UV-LED cured Solvent/Water-based, UV/UV-LED cured