08 October 2019, Lanskroun, Czech Republic
Amcor invests in a SOMA Optima2 flexo press
Press is anticipated to reduce setup times during flexible packaging product changes.
SOMA announces that Amcor has invested in a new SOMA Optima2 eight-color flexo press, the fourth SOMA Optima machine in Mexico. It will be used alongside existing presses the company has on site.
Amcor is a global leader in developing and producing responsible packaging for food, beverage, pharmaceutical, medical, home- and personal-care, and other products. Amcor works with leading companies around the world to protect their products and the people who rely on them, differentiate brands, and improve value chains through a range of flexible and rigid packaging, specialty cartons, closures, and services. Customers enjoy unmatched talent and safety, comprehensive reach and scale, industry-best operations and innovation, and a strong commitment to responsible packaging and sustainability. With the Optima2 820-8 EG, an 820 mm (32.3") wide press with eight ink units produced by SOMA, "Amcor will adapt to Mexican market trends in flexible packaging, primarily by reducing setup times during product changes," explains Ismael Montes, Operations Director.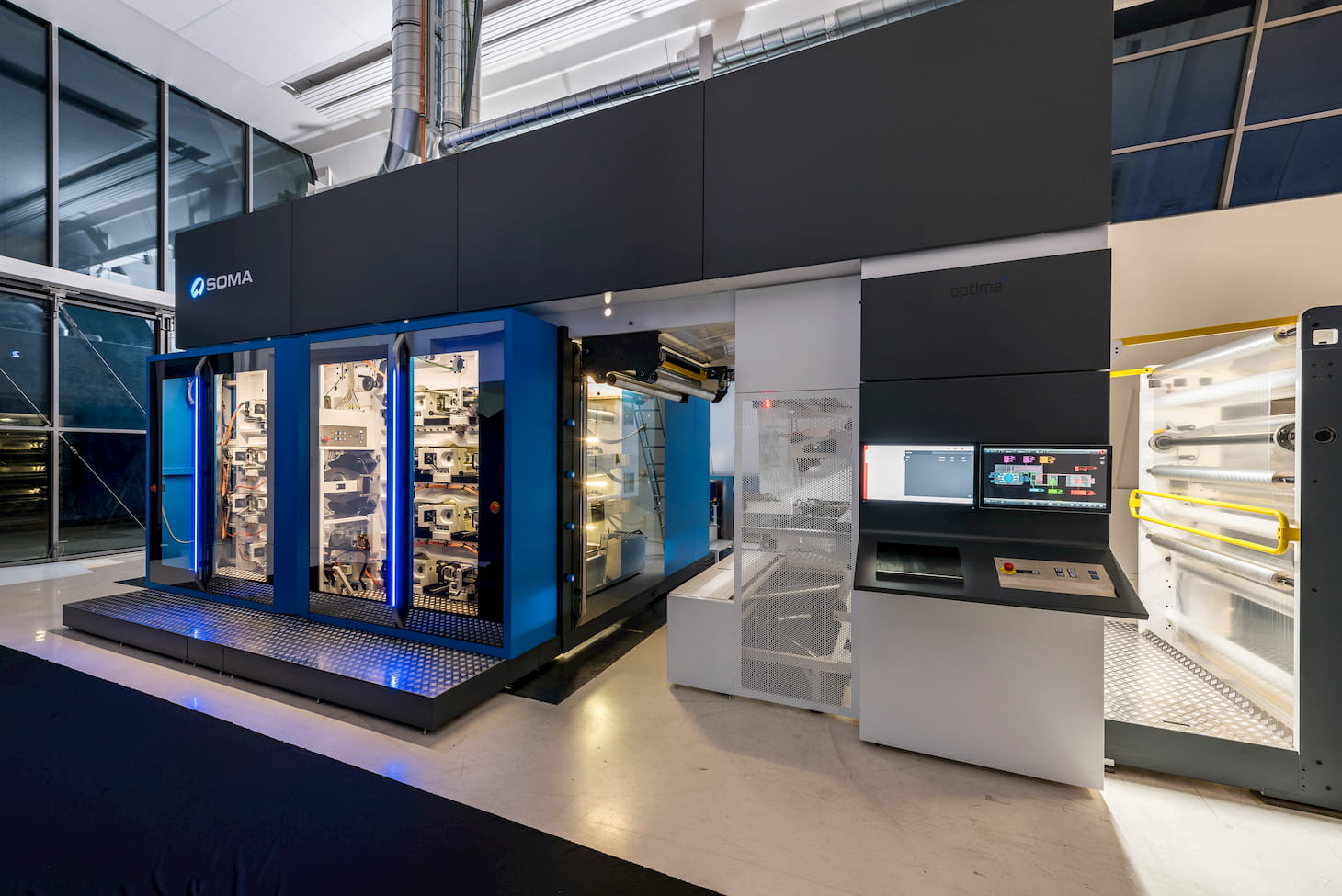 The Optima2 press is the culmination of the latest advances in flexo press technology and design. It has a number of unique, cutting-edge features that deliver exceptional productivity, print consistency and running cost efficiency. For example, Optima2 presses are fitted with an Advanced Bounce Control System that reduces bounce at high press speeds to optimize print quality. Decks with print and anilox cylinders are designed with emphasis on rigidity, precision and reliability, to consistently hold highlight dots with perfect registration, minimizing bounces at high speeds. This is particularly important when using HD plates or with an extended gamut.
With the ARUN system the registration and impression is adjusted automatically without any operator effort. The result is that jobs get up to speed faster and there is almost zero feet of setup waste.
The Ink Cartridge system offers printers a means of reducing ink costs by minimizing ink volume and residual waste. This is particularly handy when printing jobs where expensive spot colours—for example, special effect and metallic ink formulations—are used. Based on current experience, an average of 17.9% in ink savings is achievable.
The advanced SOMA Press Monitoring system allows supervision and long-term monitoring of Optima2 flexographic press efficiency and energy consumption via the Internet. Thus, the experienced SOMA press service team in Lanskroun, Czech Republic can oversee the performance of the press in Guadalajara from more than 9500 kilometers away.
Amcor Flexibles LatinAmerica installed the new Optima2 flexo press in June 2019.