19 December 2022
Congratulations to
Multiflex Polybags
Multiflex Polybags wins honors at 2022 Asian Packaging Excellence Awards
Multiflex Polybags Pvt Ltd., on December 8, won three 2022 Asian Packaging Excellence awards for packaging - all printed on a SOMA 820 Optima CI Flexographic press.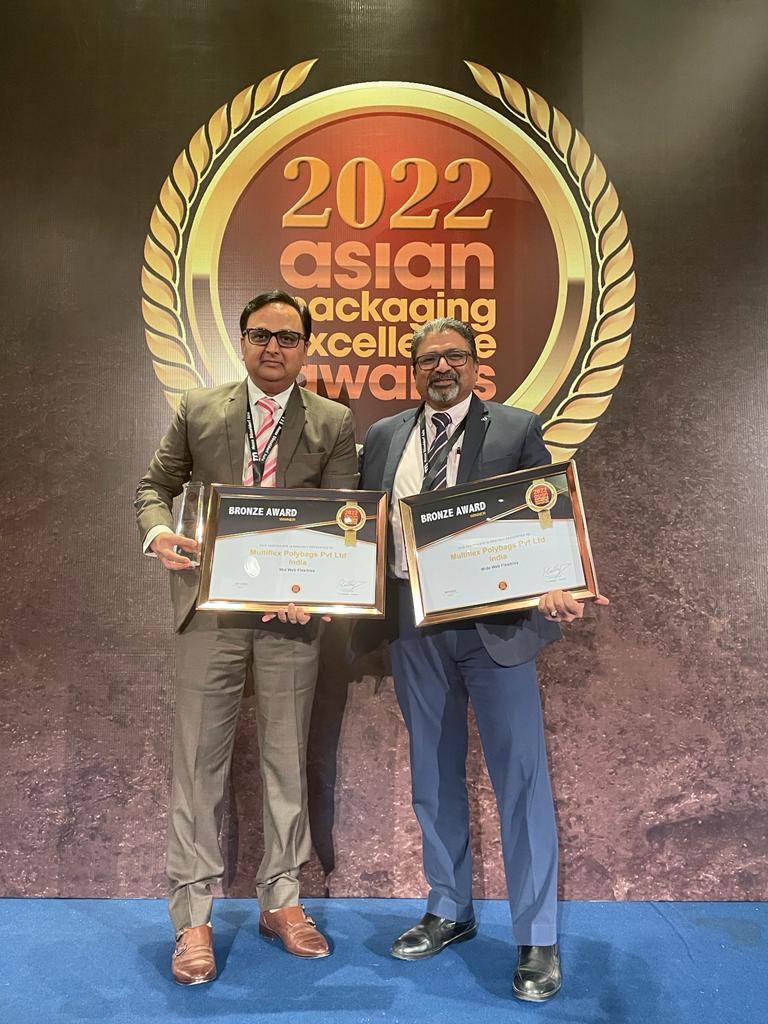 Multiflex Polybags is a leading flexible packaging producer of labels, pouches and polybags, from its main plant at Chennai, India. They print a variety of multi-color images, graphics, and designs on all types of LLDPE, HMHDPE, PP, BOPP, BOPA, CPP, and polyester films.
The industry's only regional Asian Packaging Excellence Awards dinner was held in Bangkok, Thailand following an intensive one-day annual SHIFT 22 Label & Packaging conference, sponsored by publisher Print Innovations Asia. This was the first face-to face-event following COVID and, hence, it enjoyed attendance from nearly all countries in Asia. The appropriate theme was 'Let's talk about the state of our packaging industry post-pandemic.'
Always a highlight of the year, the awards dinner showcased quality packaging companies who were awarded gold, silver, and bronze awards in the 2022 competition. The awards included 19 categories covering all print processes—including flexography—broken into wide web, mid web and narrow web, including a number of sub-categories based on substrate and reverse printing.
Of these, Multiflex Polybags received a gold medal in the narrow-web film flexo category, along with two bronze awards in the wide-web and mid-web flexo categories. Prepress and photopolymer plates were prepared by Multiflex's long-standing prepress partner, VeePee Graphics India Pvt Ltd.
Rajendra Mehta, Director, Multiflex Polybags, has quoted in the past that their SOMA press, "is a must-have for every flexible packaging printer and converter, and its power-packed in a compact space provides us with an extra armor in our arsenal. The machine is very versatile in terms of material handling and enables quick job changeovers for shorter runs."
Multiflex Polybags installed its 8-color SOMA Optima CI Flexo Press in March, 2021. "The successful installation of a SOMA 820 Optima CI Flexo press at Multiflex, during the second wave of the pandemic, was an excellent achievement," comments Suhas Kulkarni, SOMA Area Sales Manager. "We are very impressed with the designs Multiflex Polybags has printed on their SOMA press and are indeed very proud of the awards they have rightfully received. The designs are very representative of the fine work that can be executed on SOMA presses."