12 April 2017
Flint Group opens its Global Innovation Centre for its Paper & Board packaging inks business in Malmö, Sweden
Announces its investment of a SOMA printing press.
Malmö, Sweden April 2017: Flint Group continues its innovation and leadership position with the opening of its Global Innovation Centre (GIC) in Malmö Sweden. A new normal is now established in the industry where the highest standard of service and support for packaging printers is now a reality.
The opening of the Global Innovation Centre is the latest strategic move by Flint Group, once again proving its focus on innovation, development and the future of packaging inks. At the centre of this facility is Flint Group's new 8-station SOMA printing press equipped with the latest web handling and both water-based and UV printing capabilities.
Kim Melander, VP Sales EMEA & Global Strategy Paper & Board for Flint Group, says this, "We are extremely proud to announce this next achievement for our Paper & Board packaging inks business. The centre has been specially designed – from the layout of the entire facility to the custom workspaces and workbenches - to focus on the development of products that will shape the future of Paper & Board printing.
"The investment in our new state of the art SOMA printing press is a significant milestone and a clear demonstration that we are fully committed to invest in our industry and support our customers' growth through an innovative development workflow."
Flint Group's newest innovation centre is a hub of innovation and collaboration, having:
A brand new SOMA printing press for product benchmarking and customer trials, equipped with state-of-the-art features for quick job changeover and efficient short run operation. Especially Inkstorm automatic wash-up system, Falcon II fully automated impression setting system, Smart Register semi automated register setting system and Soma´s patented Ink Cartridge, a unique, highly efficient and cost effective solution for printing spot colours on CI presses using a minimum of one liter of ink in the inking loop.
A 590 square meter space for press demonstrations and with a sound proof collaboration room.
Development and testing labs with advanced analytic testing and proofing equipment.
An 'Academy' room which can hold up to 25 people and an adjacent free-thinking lounge area for mapping future ideas and solutions.
A new GSE ink dispenser and Flint Group's unique VIVO Colour Solutions toolbox provide the full integrated press room workflow
A staff of experts with more than 300 combined years in the packaging industry!
According to Paul Winstanley, Technical Director, Paper & Board EMEA, "With the GIC, Flint Group presents a burgeoning global technology model; a customer centric stance focused on innovation and the development of 'next generation' products for our core market segments. This facility is truly state of the art – with an innovative workflow, analytic tools and equipment, a new fully equipped printing press, and dedicated staff, Flint Group has created the future roadmap for customer support."
Mr. Stuart Duffy, Director Professional Services for Flint Group Packaging & Narrow Web, adds, "In June of 2016, Flint Group presented the market with its Global Colour Centre (GCC) in Poland and its solution-based competencies, 'VIVO Colour Solutions', a multilingual, 24/7 integrated digital colour communications and management service. The new Global Innovation Centre (GIC) in Sweden is a second step, and a calculated complement to the GCC in Poland."
Mr. Duffy continues, "The demand for value creating brand equity (colour) and integrity (security) solutions by brand owners helped shape our strategy to create and deliver these two global Centres of excellence. In addition to focusing on a program of high level innovation and services development, each facility has experts who deliver crucial day to day technical support and projects including our academy for training and education. Every element is targeted to ensure our customers' businesses continue to develop and prosper. At Flint Group you get it All Inklusive!"
Mr. Melander concludes, "At Flint Group we are MAKING IT HAPPEN. In this 'new normal' we are setting new standards for the industry to follow; we are raising the bar on everyday performance. We are creating a new reality for success in package printing. For the benefit of our customers, we listen, we learn, and we lead."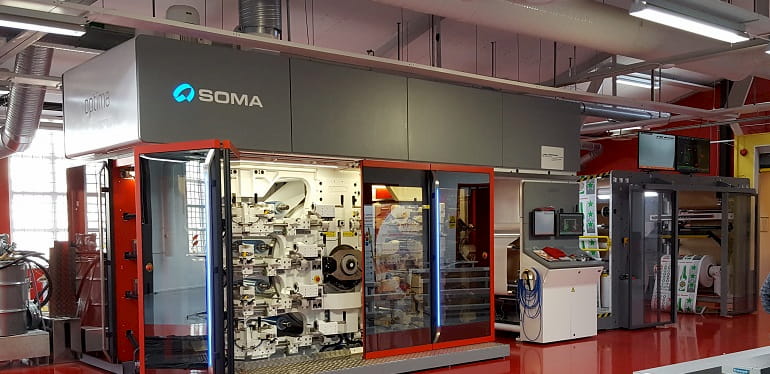 For more information on Flint Group's Global Innovation Center (GIC), its Global Colour Center (GCC) or VIVO Colour Solutions, please contact Flint Group at info.packaginginks@flintgrp.com.
For more information on this press release, please contact Deanna Klemesrud at Deanna.klemesrud@flintgrp.com.
Flint Group
Flint Group is dedicated to serving the global printing and packaging industry. The company develops, manufactures and markets an extensive portfolio of printing consumables, including: a vast range of conventional and energy curable inks and coatings for most offset, flexographic and gravure applications; pressroom chemicals, printing blankets and sleeves for offset printing; photopolymer printing plates and sleeves, plate-making equipment and flexographic sleeve systems; pigments and additives for use in inks and other colourant applications. With a strong customer focus, unmatched service and support, and superior products, Flint Group strives to provide exceptional value, consistent quality and continuous innovation to customers around the world. Headquartered in Luxembourg, Flint Group employs some 7900 people. Revenues for 2016 were € 2.3 billion. On a worldwide basis, the company is the number one or number two supplier in every major market segment it serves. For more information, please visit www.flintgrp.com .