20 April 2020
Marvaco and SOMA announce a breakthrough in white ink opacity
The collaboration between Marvaco, SOMA, Flint Group and INOMETA has resulted in a breakthrough in white ink opacity and saving ink.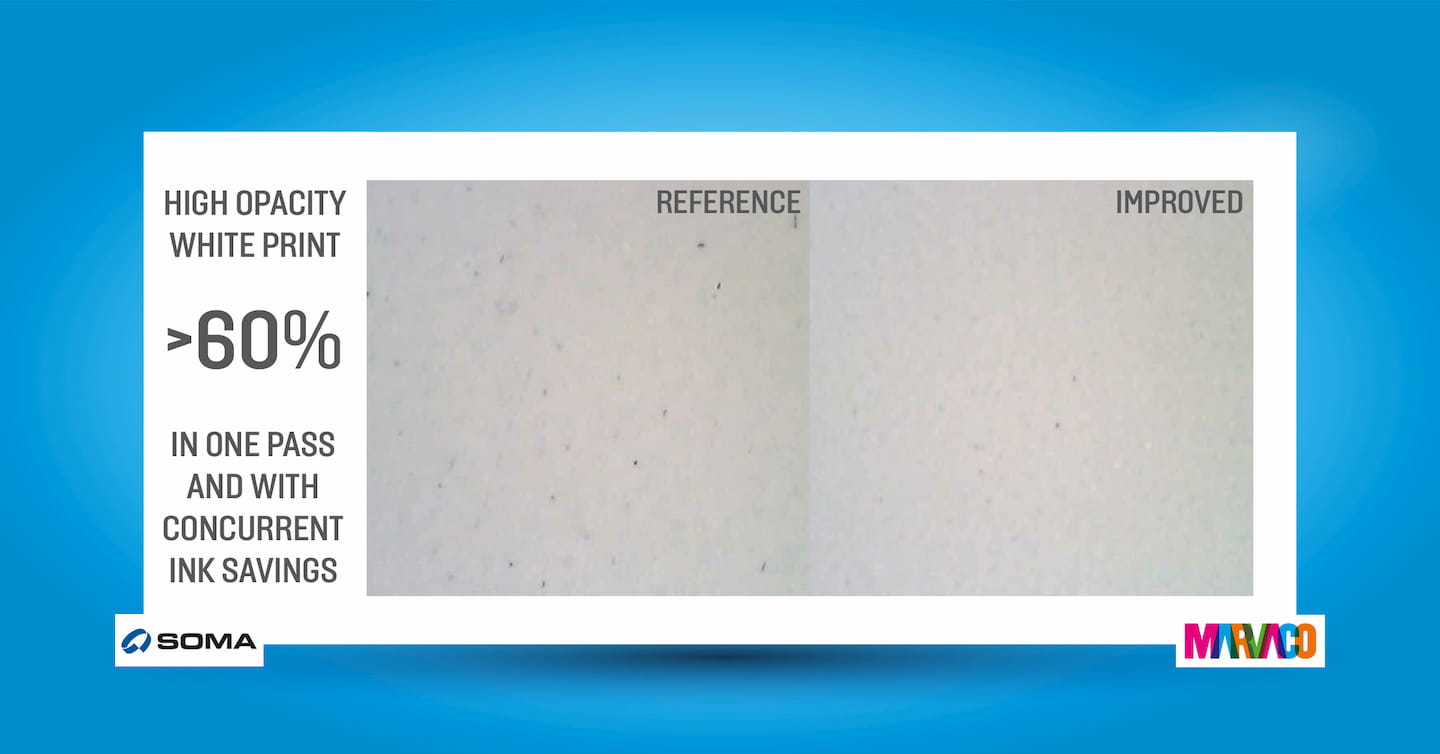 The recent collaboration between Marvaco, SOMA, Flint Group and INOMETA has resulted in a breakthrough in white ink opacity, saving ink and dramatically reducing the environmental impact of package printing while increasing print efficiency. For runs whereby white ink consumption is typically half the total ink consumption, this result offers an enormous potential to achieve total eco-efficiency.
The development, led by Marvaco and SOMA, has resulted in over 60% opacity of reverse printed white BOPP. The project utilizes the latest technologies from all four partners to enable the reduction of ink volume while maintaining the high opacity levels.
Moreno Melegatti, Technology Center Manager for SOMA, explains, "Only a few printers are able to reach the same opacity in flexo printing with a single white. Opacities like these typically require high anilox volumes — and even printing white via two passes. We are proud that the SOMA OPTIMA's new drying system minimizes the effect of ink blocking, while reaching this extremely high opacity."
Kai Lankinen, Chairman of Marvaco Group, said, "Reaching this level of opacity has been my dream throughout the past 20 years but new technologies have finally been able to deliver it. These cooperative efforts have resulted in significant ink savings, while maintaining the same opacity levels seen in traditional technologies. Our work included several tests, and I must mention that without the great support from Flint Group and INOMETA, this would not have been possible to achieve."
Joelle Bédat, Business Development, and Thomas Strohe, Commercial Product Director of Flint Group, are delighted with the superior results, noting how the combination of the latest technologies within Flint Group plates and inks complemented each other to overcome this challenge. The achievement demonstrates the strength of cross-functional collaboration between the companies in order to support packaging printers during these challenging times.
These results were just one of many new developments that were targeted for the Drupa 2020 event. The partners shall reveal more about the detailed results at a later point and bring this new technology available very soon as an advantage to their combined customer base.
For more information and to arrange test trials, please contact our colleagues in Globe Technology Center: globe@soma-eng.com