25 May 2020, Lanskroun
SOMA and VIP-Systems to partner for the Russian market
SOMA has selected VIP-Systems Group as the company's official agent in the Commonwealth of Independent States (CIS), the confederation of countries that used to form the Soviet Union.
SOMA began commercial activity in Russia more than 25 years ago and has very special feelings for the market and its people. Russian customers were some of the first worldwide who believed in founder Mr. Ladislav Verner's family business, along with SOMA's technology. Meanwhile, SOMA always took importance in delivering Russian customers the best service and support. It was a major reason why SOMA established an office in Russia, invested in local service support with printing specialists, and maintained the Russian language as one of its primary business languages. Moreover, SOMA chose UV-Service, a customs procedure company, as its strategic partner for its service parts business. With the cooperation of UV-Service, SOMA can deliver any part to any Russian customer - whether it is located in St. Petersburg or Novosibirsk - within 24 hours.
For quite a while, SOMA had been seeking a sales partner who respects SOMA's special respect for Russian customers, SOMA's independence in the market, and the company's strong aspiration to find the best solutions for its customers rather than the superficial desire to sell. SOMA always maintains an individual approach to every customer, building long-term relationships between SOMA's team and many Russian companies.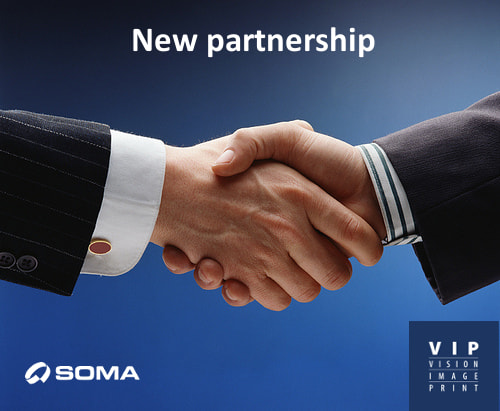 Thus, with an objective to increase customer sales opportunities, SOMA has agreed to an official partnership with VIP - Systems. VIP- Systems becomes SOMA's official agent in the CIS- 5 sales managers will be assigned to SOMA. Both companies share the strong belief that they can bring real solutions with important value for their customers.
With offices in different areas like Moscow (Russia), Almaty (Kazakhstan) and Tbilisi (Georgia), VIP Systems company (www.vipsystems.de) was founded in 1997 with the objective to supply prepress, press and post-press equipment for offset and flexo printing facilities and- along with a supply of consumable materials, spare parts and offering machine service maintenance. VIP- Systems owners, Mr. Gunter Franz and Sergey Spilka, consider technical expertise, reliability and stability as their company's core values. These basic principles are the foundation that unites SOMA and VIP- Systems together in their future activities in Russia.
VIP- Systems had been seeking a company that could allow their flexible packaging division team to deliver Russian customers state-of-art CI flexo print technology. They preferred to work with a partner who is driven by Innovation, whose primary aim is customer satisfaction, and who has demonstrated profitability and a long-term vision.
"SOMA will never abandon its own physical presence in Russia. We invested in many resources to develop a professional service organization to keep our CIS customers happy. While we can guarantee all aspects of local support, we determined that we lacked a 'seat at the table' during many sales cycles. Russia is vast, and it is not physically possible to be close to every customer who is seeking the best solution for its next investment. This is a quality which we were seeking in a potential SOMA partner," explains Pavla Kusa, SOMA Commercial Director. "We wanted to work with a company with whom we could share the same values that we ourselves deliver to our customers. We wanted to continue to build a team of professionals who would become advisers for our potential clients, rather than sales-oriented individuals. VIP- Systems is a partner who will respect the individuality of every potential SOMA client, and will effectively communicate their key requirements to our company, so we can deliver the best solutions for everyone."