03 October 2022
Fast job makereadies and Optima's intelligence at K2022
SOMA will demonstrate complete job changeovers from plate mounting to press makereadies in two different demos during the day.
SOMA will be presenting its state-of-the-art flexo printing technology at Hall 4 Stand B21 during this year's K2022 from October 16-26 in Düsseldorf, Germany The highlight of the SOMA stand will be two different live demonstrations, showing not only the exceptional printing accomplished on plastic substrates with the 2nd generation Optima press, but also the speed and easiness in which jobs are changed—complete job changeovers from plate mounting to press makereadies.
Morning DEMO - Speedy Changeover
The challenge for printers has become short runs, and the need for quick makereadies. Those who watch the SOMA demonstration will not have to wait long. The press can be installed with the SOMA IRIS (Intelligent Register and Impression Setting) system for automatic job setting, a unique off-line solution that combines the advantages of automatic plate mounter with fully automated device for plate topography and register measurement.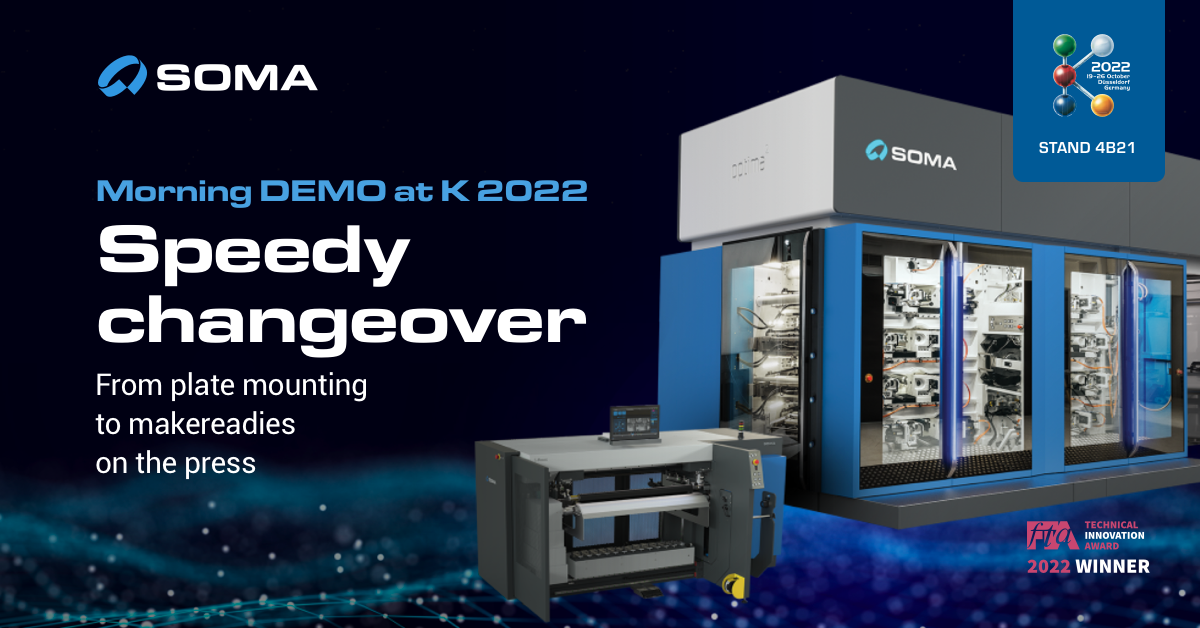 AFTERNOON DEMO - Mistake-Free Changeover using Wizard
Flexo needs to meet the challenges of efficient changeovers while under the operation of a novice workforce. SOMA will show visitors how they can master their changeovers with its SOMA Changeover Wizard, an innovative component of new SOMA Optima flexo presses, and a recipient of a prestigious 2022 FTA Technical Innovation Award. The SOMA Changeover Wizard flexo press user interface automatically guides the press operator during all the steps involved in changing from one job to the next. In doing so, it reduces the number of tasks or may shorten tasks required, defines their optimal order, and automates as many steps as possible, minimizing operator error.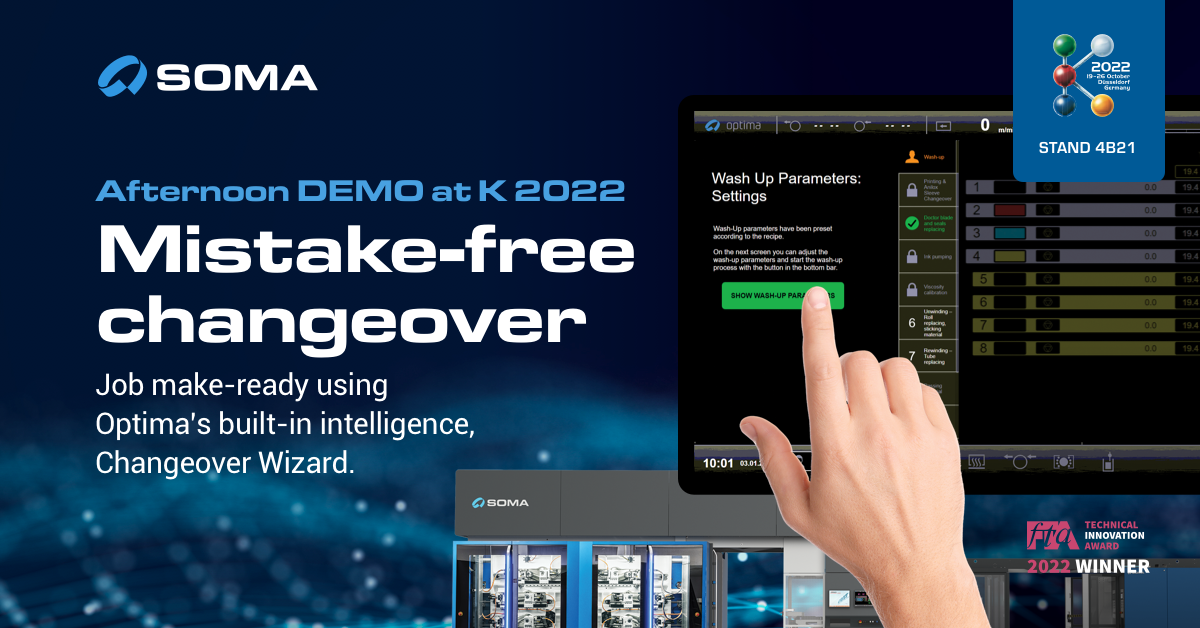 Making plate mounting automatic
The S-Mount plate mounter puts the emphasis on fast and accurate plate mounting. SOMA responded to ever-increasing demands for productivity, short runs and increasing demands on accuracy. The result was significant operator ease of use. The accurate plate mounting makes it easier to set the register when the sleeve is placed into the press. When that process is used along with the accuracy of IRIS print setting system, there is no longer a manual burden on the press operator to set or tell the press where to adjust register and impression. It is done automatically with minimum waste involved.
SOMA to run two extremely demanding jobs daily during K2022
It is not easy to print exquisite packaging artwork on plastic substrates. The new Optima is capable of reproducing rotogravure-like print quality. When used with the latest pre-press technology, the SOMA Optima can solve a number of print challenges.
SOMA intends to run two extremely difficult print jobs, highlighting the 260 mm repeat length printing which, for certain jobs, provides extra savings on plate material. The print results will display exceptional contrast, minimal dot gain, superior dot stability and registration, and exceptional, smooth transitions to zero.
"Since we last visited K Show, SOMA has grown as a company and has been extremely busy creating even more innovative features and equipment to our product line. Our goal is to produce exceptional flexo print quality, while making our equipment as fast and easy as possible to operate," comments Petr Blasko, SOMA Marketing Director. "We look forward to showing printers and converters in Düsseldorf how easy the changeover process on a flexo press, using SOMA equipment, can be."