10 August 2022
SOMA selects D-Flex to work as a sales agent in Germany, Austria and Switzerland
D-Flex will offer SOMA flexographic presses, plate mounters, laminators and slitter rewinders to their customer base.
SOMA is pleased to announce that D-Flex e. U., based in Vienna Austria, has been appointed as a new sales and service partner representing and promoting SOMA products in Germany, Austria and Switzerland (DACH region).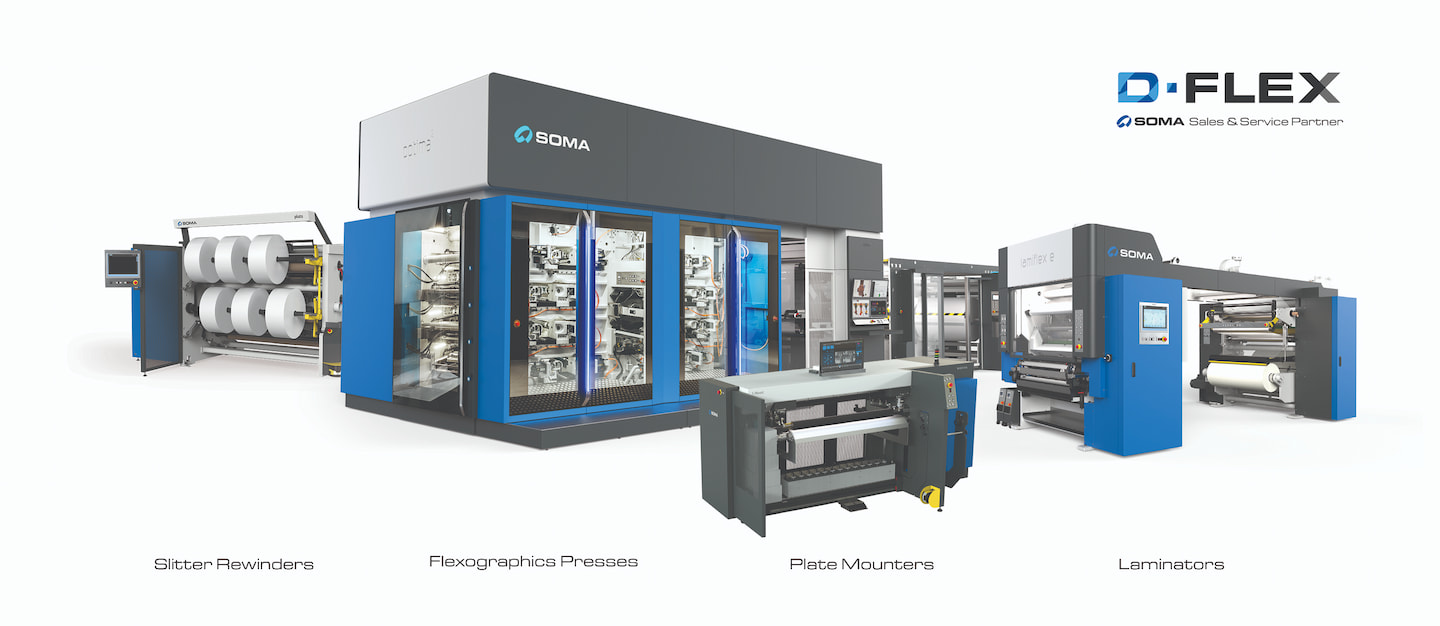 D-Flex is a newly incorporated company established by Wolfgang Henn, the Proprietor and Managing Director of OD Systeme, whose activities and expertise are mainly concentrated in central and eastern Europe. D-Flex will be applying the same expertise—decades of experience at leading companies within the printing and packaging industry—to the DACH area of Europe. Wolfgang Henn, himself, has more than 40 years' experience in the business of distribution of machines for printing, and has expertise in a wide range of technologies including, of course, flexography. D-Flex will also be utilizing the knowledge of its partner company, Heimann, an expert in consumables, process controls, and measurement instruments based in Hamm, Germany.
"We only offer the latest machinery from the best-known manufacturers for use in the areas of printing, marking & coding and flexible packaging. In that light, we are proud to become a representative of SOMA products," states Wolfgang Henn, D-Flex "Particularly with mid- and wide- web flexo presses, companies are looking for equipment with added features, capable of handling high-definition plates, and expanded gamut technology. There is an important need to support recent print trends, including shorter runs and even greater print quality. Printers in Germany, Austria and Switzerland have a tremendous need for these presses and plate mounters. SOMA has demonstrated that their innovative product line of OPTIMA presses and S-Mount mounters produce the highest quality print while delivering automated plate mounting along with the IRIS register and impression setting technology, and quicker job changeovers—most notably delivered by the SOMA Changeover Wizard, which was recently honored with the prestigious FTA Technical Innovation award in the U.S."
"Wolfgang Henn and his team are well-known for their extensive knowledge in all facets of printing. They provide exceptional support in the form of service, repairs and spare parts – offering a complete solution for flexo printers including finishing equipment. We, too, exist to serve our customers in the best way we can," says Pavla Kusa, SOMA Commercial Director. "We expect D-Flex to become an important presence in the DACH region, and look forward to working with them."